The Lions will see what life is like without Nathan Rourke.
Can Edmonton finally win a home game? The Elks want to make big strides in 2023
Montreal Alouettes have stability and a new direction.
The 2023 CFL season is finally upon us! Now is the time to start looking at some intriguing week-one matchups. It's always tough to tell how some teams will fare after spending an offseason rejigging their lineups. It will be interesting to see how our early preseason CFL Power Rankings evolve as we POWER through 21 weeks of Canadian Football action.
I've already made my picks in the CFL Pick'em Challenge on OfficePools.com. The best part? It's completely free to play, and you can win weekly prizes, including a grand prize of two 2024 season tickets for the CFL team of your choice! How awesome is that? You can even create your own private pool to compete with your buddies. So don't hesitate—to join the excitement at OfficePools.com and make your mark on this thrilling CFL season.
CFL Week One Picks
BC Lions at Calgary Stampeders
No Nathan Rourke, no problem for the Lions. Vernon Adams Jr has been solid and has many weapons at his disposal, especially at the receiver position; I like Lion's aerial attack far more than the Stamps. Calgary seems a little thin on quality receivers for QB Jake Maier to play with. BC's defence is going to have to contain Calgary's run game, as the Stamps will rely heavily on all-star back Ka'Deem Carey to move the ball.
BC's defence scares me a little. Will they be as dominant as last year? I'm not too sure they will out of the gate; it seems to be a revolving door so far in training camp. We'll call it a work in progress.
I see a lot of points being scored, and if this is going to be a shoot-out, I like the team with the bigger guns. I'll take the Lions.
Trevor's Pick: BC Lions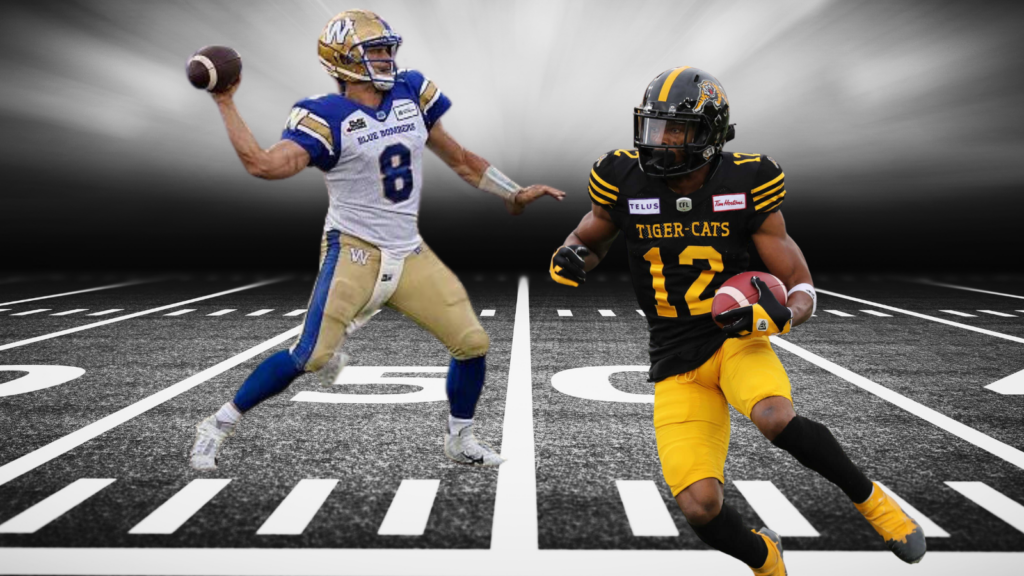 Hamilton Tiger-Cats at Winnipeg Blue Bombers
Congratulations to the Hamilton Tiger-Cats for being chosen to face the Juggernaught, Winnipeg Blue Bombers in week one. The cats get to try their shiny new quarter out in Bo Levi Mitchell. Unfortunately, he's up against a tough Winnipeg defence, so hopefully, their new running back James Butler can relieve some pressure. I don't know if Hamilton has enough offence to make it scary for the Bombers.
Winnipeg is pretty much the same team as last year, with a couple of upgrades; they are great on both sides of the ball. Hamilton might keep it close at the start, but I see the Blue Bombers taking this by more than a touchdown.
Trevor's Pick: Winnipeg Blue Bombers
Ottawa Redblacks at Montreal Alouettes
New ownership in Montreal, which means some stability. They picked up quarterback Cody Fajardo, who didn't really get a chance to show what he could do behind a terrible offensive line in Saskatchewan last season; I'm interested to see how he does with a better O-line on the Als. Montreal's defence also got some upgrades that could make this a close game.
Ottawa is trying to figure out their QB situation. It's Nick Arbuckle for week one and maybe two. Meanwhile, they have Jeremiah Masoli ready in the wings, whom I think is a far more dynamic quarterback. But for now, they'll platoon the position and see who earns it. The Redblacks have a decent receiving core, especially with Jaelon Acklin. This is a coin flip for me, but I'm leaning towards Montreal's defence, keeping it close with the Alouettes grinding out a win.
Trevor's Pick: Montreal Alouettes
Saskatchewan Roughriders at Edmonton Elks
You feel bad for the Edmonton fans who desperately want their team to win games, especially at home! Both teams made some personnel changes, but it was Edmonton who was extremely aggressive in the free-agent market. A Chris Jones team usually rebounds in year two under his watch, so it'll be up to his starting QB, Taylor Cornelious, to get this new offense cookin'.
The question is, how good are the Elks at stopping the run? They were terrible at it last season. This Saskatchewan team will be deadly in the backfield with Jamal Morrow and Frankie Hickson. Trevor Harris is the new QB anchoring things for the Riders, and he also likes to put up a lot of points when given time. Have the Riders improved enough at the offensive line to give their fast-paced offense a chance? Another coin flip game for me, but I'm leaning toward the Riders.
I think this game will be high scoring, so I'm leaning towards over 45 points for the total points tiebreaker.
Trevor's Pick: Saskatchewan Roughriders
---
Agree? Make your picks in OfficePools.com's CFL Pick'em Challenge.