The 2023 FIFA Women's World Cup starts July 20th and is jointly hosted by Australia and New Zealand. We thought we'd kick things off by previewing and giving our insight on who will move out of the Group Stage to the Round of 16 in our Women's World Cup Group A Prediction.

World Cup group predictions: Group B I Group C I Group D I Group E I Group F I Group G I Group H
Group A Preview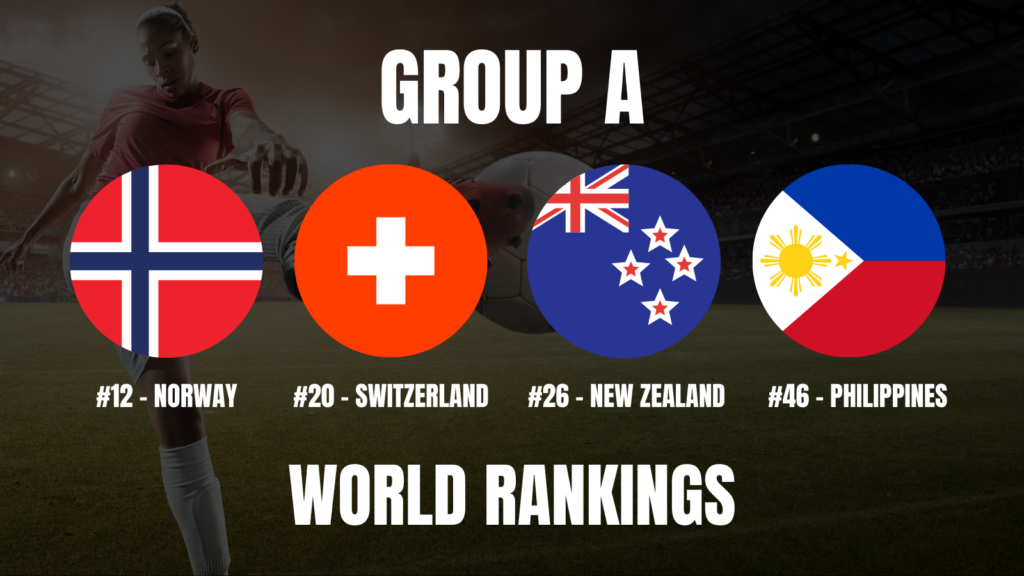 Group A presents an intriguing mix of teams. While New Zealand and Norway boast considerable experience on the big stage, Switzerland is making only their second appearance, and the Philippines are making their World Cup debut. The question is, how much will experience play a role?
Norway and Switzerland appear to be the front runners to secure their spots in the Round of 16. However, Switzerland's recent form raises concerns, as they have gone winless in their last six games on the International stage and barely qualified for the World Cup. Likewise, Norway failed to advance from the group stage in the 2022 Euro Cup, so both teams are eager to prove they are better than those recent results.
This situation could present an opportunity for New Zealand. Although they've never progressed past the group stage, they play on home soil throughout the tournament. This isn't something to overlook, especially if games are close and the players use that crowd energy to push through.
The Philippines come in with momentum, having just won the ASEAN Football Federation Cup and netting an impressive 15 goals in five games. With several American-born players on their roster, they could add an interesting twist to the group dynamics. They are not a team with a "just happy to be here" mentality; they aim to shock the world.
Group A Prediction
In terms of overall talent, Norway possesses the strongest lineup in Group A, backed by Ada Hegerberg, the first woman to win the Ballon d'Or. With a new coach, Hege Riise, at the helm, Norway hopes they can show better than their disappointing Euro 2022 performance.
When it comes to Switzerland, it remains uncertain whether they can advance. Their form has seemed shaky over their last few friendly matches, and I wouldn't be surprised if they are ripe for an upset. However, they do have a lot of great talent, some coming off of injury, that they should be able to pull together. I have reservations about New Zealand advancing due to their goal-scoring issues, and the Philippines may not be strong enough to defeat any of their world-class rivals, but you never know!
We'll play it safe here.
Prediction: Norway, Switzerland
That does it for our World Cup Group A prediction; we'll continue going through all the groups over the coming days.
---
Game Schedule:
July 20: New Zealand vs. Norway
July 21: Philippines vs. Switzerland
July 25: New Zealand vs. Philippines
July 25: Switzerland vs. Norway
July 30: Switzerland vs. New Zealand
July 30: Norway vs. Philippines