The Elks and Redblacks look for their first win.
Are people sleeping on the Montreal Alouettes against the Bombers?
Toronto faces its toughest challenge in the BC Lions.
We said there could be some surprises in store last week, and that was an understatement. We went 3-4 with our one loss, coming courtesy of the BC Lions' spanking of the Winnipeg Blue Bombers. That brings our overall record to 10-2. That's a great start to the season for both the Lions and our weekly picks.
Our CFL Power Rankings have been updated once again. You'll notice that the BC Lions are ranked as #1 in the league after their big win last week. That drops Winnipeg to 2nd, with the Toronto Argos nipping at both their heels in third. A big surprise is seeing the Montreal Alouettes sitting at 2-0, and even though they have yet to play a Western team, they sit 5th in our rankings. But are they for real? Their big test comes against the Bombers in Week 4.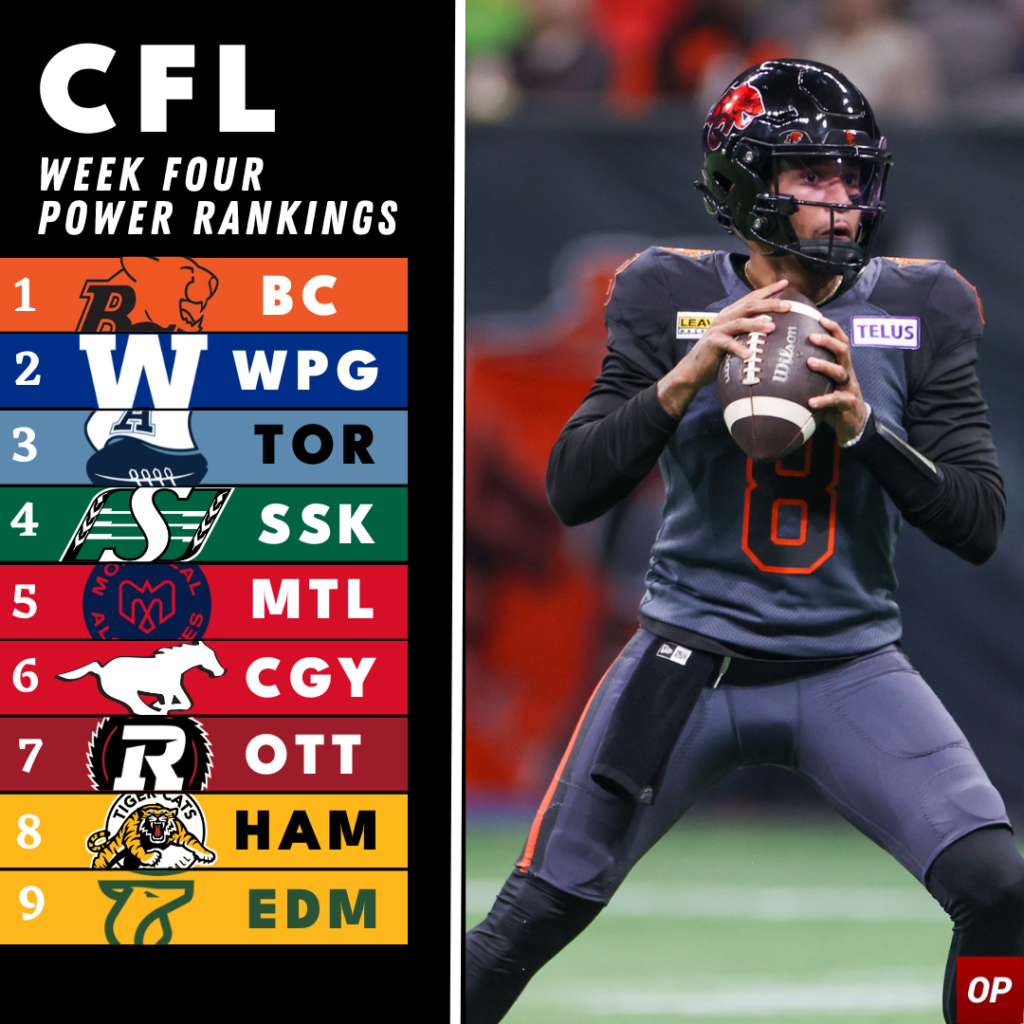 ---
CFL Week 4 Picks
There are only three matchups this week, but none of them are easy to predict. So let's dive in.
Edmonton Elks at Ottawa Redblacks
It's a battle of the "we need a win!" Both teams are winless, and boy, they could use some sort of positivity injected into their veins. Ottawa is expected to start Tyrie Adams, who is making his season debut, while Edmonton is leaning toward their backup in Jarret Doege. Both QBs want a chance to showcase their abilities and this might be the game to do it.

Potentially there could be a lot of scoring in this matchup because, let's be honest, both teams don't exactly play great defense. Tough pick, but I'm leaning on Edmonton's offense coming through for them. We haven't seen it click the way it should, and they've shown flashes of brilliance here and there. They have a very talented and underrated receiving core that will need to execute, which all falls on Doege's performance. I think Edmonton has more firepower, so let's lean on the Elks to pick up their first win of the season.
Prediction: Edmonton Elks
Montreal at Winnipeg
You can't blame us for riding on Winnipeg last week; they're offense was clicking and they rarely lose at home. But they lost. And a large part of that was because the Lions' defense was able to get at the reigning MVP, Zach Collaros, and Winnipeg's defense might not be as good as we thought it was. The Bombers have managed to outscore their defensive mistakes, but as BC showed, if you can stop the scoring, you can win the game. And the Alouettes now have a blueprint.
Montreal is 2-0 and a lot of that is due to their QB Cody Fajardo, who leads the league in completion percentage (73.3) as well as QB rating (129.2). The chemistry he has with receiver Austin Mack has been lights out. However, it's their defense that has them sitting 2nd in the league with only 12 points per game. Sure, they haven't faced a challenge like Winnipeg yet, but the Als are dangerous and this game might be closer than we think. That said, Winnipeg's offense is too good to have two lacklustre games in a row, right? Right!? The Bombers should pull this one out.
Prediction: Winnipeg Blue Bombers
BC Lions at Toronto Argonauts
This is the game of the week. Two undefeated teams who have looked strong early on. Currently, the Argos sit as the betting favourite at -1.5, but let's just call it even. If anything, the Lions should be the favourites here. The Leos will be getting star receivers Keon Hatcher and Dominique Rhymes back, which will only make their aerial attack even more potent than it was against Winnipeg; that's a scary thought. And the Argos, although they've been okay on the offensive side of the ball, they've given up 288.5 passing yards per game, which is the stat that really stands out in this matchup.
The Lions have also sacked QBs 11 times so far this season and have the #1 defence in the league. They're up against a QB in Chad Kelley, who is only completing 58.7 percent of his throws and has just one touchdown to two interceptions. We feel the Lions are going to make his life miserable. The Argos are good, but they're not Lions good. Those above stats alone have me taking BC.
Prediction: BC Lions