Week two was another successful week in our CFL prognostications. We went 4-0 in our picks and looking to continue that winning momentum going into week 3. We're 7-1 so far this season, which isn't too shabby, but let's be honest, the matchups were somewhat easier to predict; however, this next week might be tougher.
We've updated our weekly power rankings. You'll notice BC dropped to third. Yes, the Lions are undefeated so far, but their offensive performance against the Elks was, how do we say it, lacklustre? Meanwhile, the Argos looked dominant in their season debut, which puts them back up to the number two spot. The Riders lost in a shootout against the Bombers, but their offense looked great, and they have fans in "Saskabush" optimistic.
---
CFL Week Three Picks
Here is who we are leaning toward in our CFL week three predictions. Make sure to make your picks in OfficePools.com's CFL Pick'em Challenge for your chance to win weekly prizes.
BC Lions at Winnipeg Blue Bombers
In Week 3 of the CFL season, two undefeated powerhouses from the West will clash, both with early weaknesses. The Winnipeg Bombers' defense is a concern, allowing an average of 29.0 points per game (58 points total), ranking them 8th in the league. Zach Collaros's impressive performance against the Riders saved them from a potential 1-1 record. However, the Bombers' offense is strong, leading the CFL with an average of 442 yards per game.
On the other hand, the BC Lions' offense struggled in their last game, scoring only one touchdown and relying on field goals. However, their defense has been outstanding, ranking first in the CFL by allowing just 196.5 yards and 7.5 points per game. The question is, can the Lions' defense hold up against the relentless Bombers' attack? I predict Winnipeg will secure a narrow victory in this exciting matchup.
Prediction: Winnipeg Blue Bombers
Montreal Alouettes at Hamilton Tiger-Cats
This matchup is unpredictable. The Montreal Alouettes narrowly defeated the Ottawa Redblacks 19-12 in their first game. Although not impressive, they've shown the ability to win. With a 1-0 record after their bye week, what to expect from them is unclear. One thing is certain: they heavily rely on quarterback Cody Fajardo for crucial passes due to their weak running game.
On the other hand, the Hamilton Tiger-Cats will be without starting quarterback Bo Levi Mitchell due to injury. This is a setback, especially with their 0-2 start. Backup Matthew Shiltz will lead the offense, having achieved a 2-1 record with the team last season. Hamilton also needs to address their defensive struggles, ranking last in the league and conceding an average of 37.0 points per game.
Despite my desire to favor Hamilton, their defensive issues and quarterback change make me skeptical. It might not be an aesthetically pleasing game, and Montreal could grind out another victory.
Prediction: Montreal Alouettes
Saskatchewan Roughriders at Calgary Stampeders
In our CFL preview, we noted that the Stampeders lack a standout playmaker in their receiving core, evident by their lone passing touchdown in the first two games. While their running game remains strong, relying solely on it can be limiting. On the other hand, the Riders are coming off a high-scoring loss against the Blue Bombers, where their offense amassed 461 total yards, with Trevor Harris shining with 413 passing yards.
In my opinion, this game will be decided by the better defense. If the Riders can enhance their defensive performance, they should be able to contain Calgary's attack and score enough points to secure a victory. I'm impressed with the Riders' progress, and Trevor Harris seems in top form. I'm predicting a win for the green and white.
Prediction: Saskatchewan Roughriders
Toronto Argos at Edmonton Elks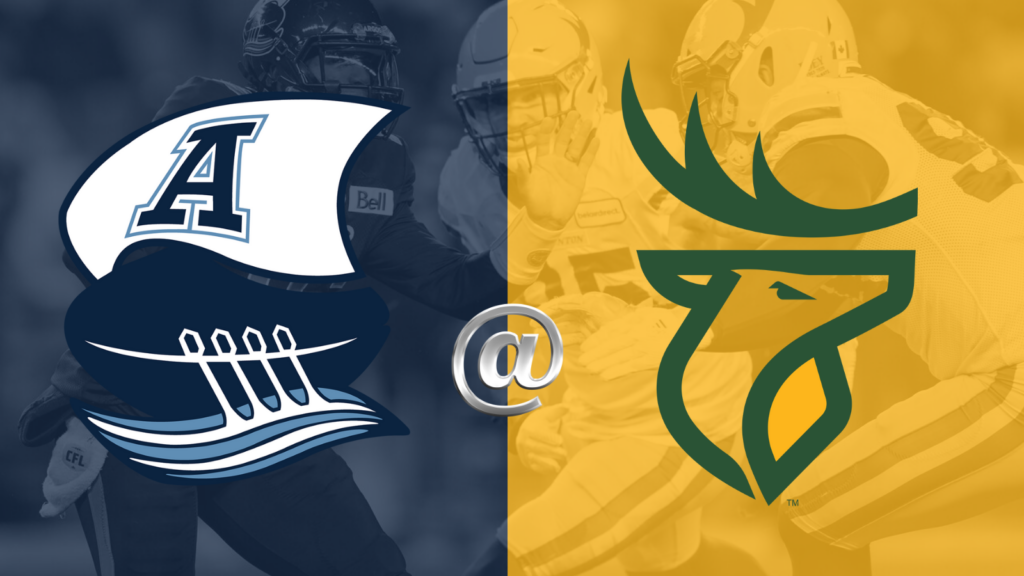 The Elks are desperate for a home win, but their challenge is formidable. They face the Grey Cup Champions, who proved their worth in the previous week. Toronto's quarterback, Chad Kelly, had an impressive performance, completing 14 of 23 passes for 213 yards and distributing the ball effectively. This poses a significant concern for Edmonton, who are still searching for their team's identity. The Elks' offense has been struggling, currently ranking last in the league with an average of 6.5 points per game. Their inability to score was evident when they failed to register a single point against the BC Lions last week.
Although Edmonton is not a terrible team, their 0-2 start is likely to become 0-3. Toronto's strength on both offense and defense makes it highly probable that they will exploit Edmonton's offensive struggles and emerge victorious.
Prediction: Toronto Argos