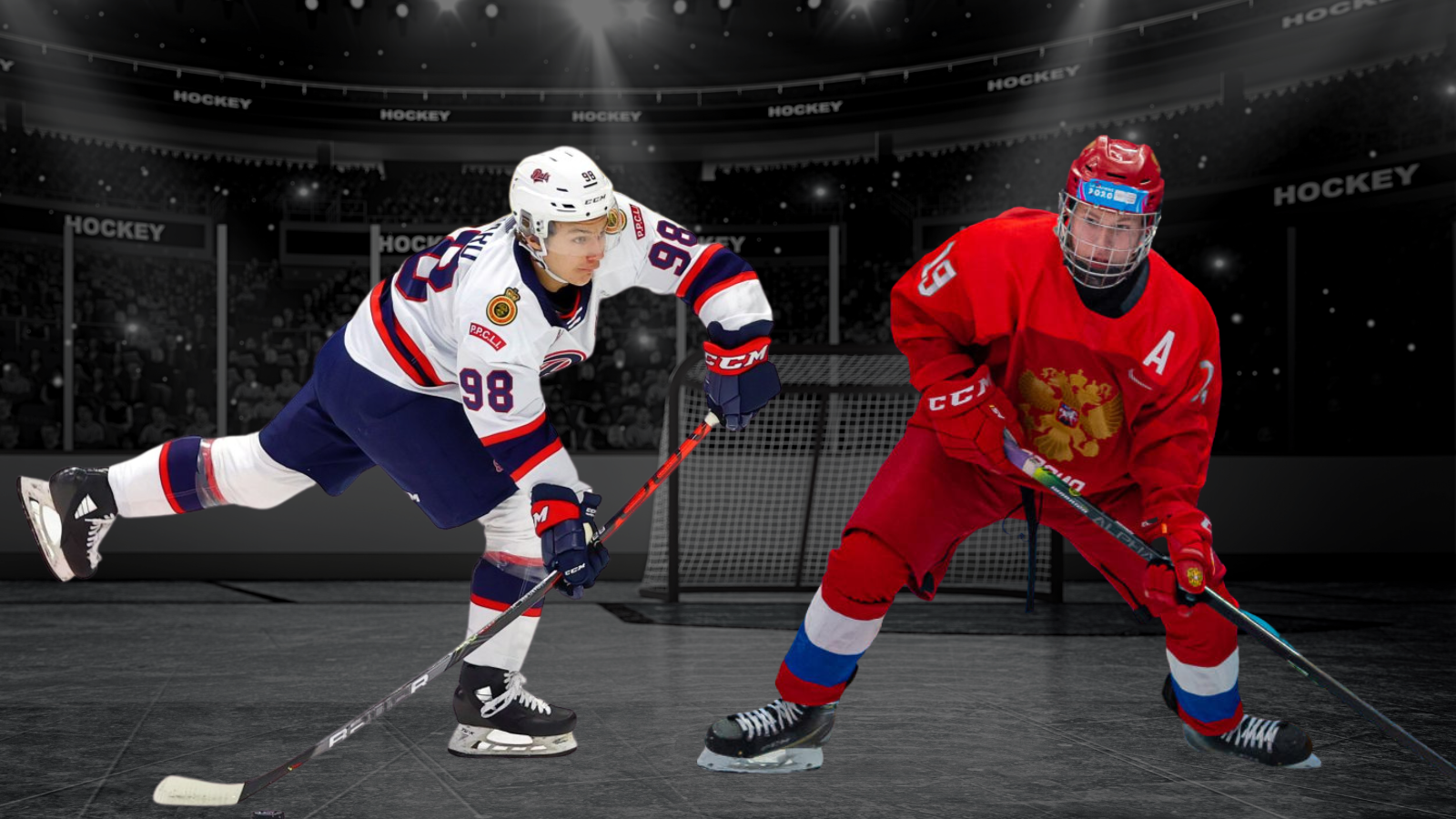 The NHL draft is this Wednesday (June 28-29, 2023), where we expect teams to make trades, draft selections, and hopefully improve their teams for now and into the future.
Outside of the NHL playoffs, the draft and the upcoming July 1st free agency period is one of the most entertaining times of the year for hockey fans, especially FANTASY hockey fans. We thought we'd add to the fun by giving our top-ten prospects going into the 2023 NHL Draft. This is not a mock draft; this is a good old-fashioned top-ten list of who we think are the top prospects looking to make their mark in the NHL someday.
So without further ado…
Top Ten 2023 NHL Draft Prospects
1. Connor Bedard
Not much to say here. He's the next one, or at least the NHL and the Chicago Blackhawks hope so. There is definitely something special about this kid Connor Bedard. First off, his wrist shot is already scary, even for NHL-caliber goalies. If anything, it'll be his bread and butter as soon as he enters the NHL, and he'll be placed on Chicago's power play to unleash one of the league's most deceptive and powerful shots. You add the fact that he's an elite skater, elite playmaker, and possesses elite stickhandling; you have the complete hockey player who will make an immediate impact.
2. Adam Fantilli
If this were any other draft that didn't have Bedard in it, Adam Fantilli would be ranked 1st overall. He's a pretty nice "runner-up" draft prize for the Anaheim Ducks to take. He's everything you want in a top-line calibre-type center. He's big in stature and possesses some beautiful hands, making him an elite playmaker and goal-scorer. He's a walking highlight reel and one heck of a power forward with fantastic skating that should help him make his mark in the NHL sooner than later.
3. Matvei Michkov
I'm not sure the Alex Ovechkin comparables are fair, but I understand the hype surrounding Matvei Michkov being one of the best Russian prospects to come through the draft in a long time. What makes him so special is his creativity with the puck. He can stickhandle out of a phone booth (do we still have those?), and like Bedard, Michkov is the complete package, speed, playmaking ability and an elite shot. The problem is that he's currently under contract with the KHL's SKA St. Petersburg until the 2025-26 season, so we might have to wait a few years to play on NHL ice, barring any kind of Alexander Mogilny-type defection plan or an expensive contract buyout.
4. Leo Carlsson
This is another prospect that any team would love to have. Örebro HK's Leo Carlsson is an elite two-way forward with a high ceiling. He's a teenager who has been playing with men in the Swedish Elite League and is more than holding his own. He's a highly intelligent player with great hands and elite passing ability. Although he has been playing the wing on his pro team, he can also play center and that's probably the best place for him when he enters the NHL. He projects as a top-six pivot with a huge top-line upside.
5. Zach Benson
Probably one of the least talked about prospects in the draft and the most underrated and versatile forwards on the board. Although he has been playing the wing out of necessity (playing alongside Connor Geekie and Matthew Savoie) in the WHL, he will most likely be moved to the middle, thanks in large part to being an elite playmaker with high-level defensive habits. Although some see him as undersized, he does have a motor and did manage to put up 36 goals and 62 assists for 98 points on the Winnipeg Ice. It's his overall compete level and drive that helps him win puck battles that should translate well in the NHL.
6. Oliver Moore
Some scouts think Moore is the fastest and strongest skater in the 2023 draft class. He definitely loves to play a high-pace style while also being a versatile centerman. Similar to Zach Benson, he's an elite playmaker who also puts pride in the defensive side of his game. He's going to be a top-six centerman in the NHL somewhere, and his value could be on special teams, both the powerplay and penalty kill. He's a coach's dream and will be trusted to be on the ice no matter the situation. Everyone loves his speed but he also has a blistering shot with a quick release that got him 26 goals playing for the United States U18 Development Program.
7. Will Smith
Scouts say Smith has great "pace," which means he's able to use his vision to make plays at high speed, which would translate well in the NHL. He is considered one of the best playmakers in this year's draft and pairs it with elite offensive contributions. He's excellent at finding the soft ice in the offensive zone and he uses deception to create high-danger chances. He might not be the best skater mechanically, but he does maneuver well on his edges, making him effective in all three ice zones. He has all the potential to be a number-one center if he can work on the defensive side of his game.
8. Dmitri Simashev
I consider him the best defenseman in the draft. At 6'4, 201lbs, Simashev is a fantastic skater who moves with fluidity for a big man, er… a teenager. He's not only a defensive defenseman who is excellent at checking and using his body, but he also has some offensive upside. As big as he is, teams should take their time and not rush him to the NHL. Let him bake in the AHL to develop, and he could end up being an elite two-way defender.
9. Andrew Cristall
Another high-end dynamic forward in the draft. He's another playmaker who shows great "pace" where he can think the game and process things at lightning-quick speeds. He's very creative, but some scouts think he plays too much of a pond-hockey style that keeps him from moving up the draft because he's not always great defensively. He lit up the WHL with 84 points in 49 games, mostly due to his deceptive speed and shifty movements while stickhandling. If he can clean up some parts of his game, like consistency and maturity, he can be a top-six forward on an NHL team.
10. Jayden Perron
Perron is another skilled playmaking two-way winger on this list. Some see him as a project player due to being a bit undersized in the muscles department, but that is something that can be remedied with maturity and a set program. But you can't teach hockey sense, tenacity, awareness, and anticipation, which he thrives at. He's also great on the defensive side of the puck, which you know coaches love. He might be undersized now as an 18-year-old, but give him time, and he could be one of the steals of the 2023 NHL draft.