Can the Alouettes upset the surging Argos?
Edmonton is still looking for their first win. Is this the week?
The Stampeders are looking for revenge.
We went 3 for 4 last week, with the one blemish being the Ottawa Redblacks losing to the Tiger-Cats. Unfortunately, Ottawa lost their starting QB Jeremiah Masoli halfway through the game, and once again, he's out for the season. That's a terrible blow, as Masoli was starting to execute and might have helped them secure the win and a turnaround to their season.
But we must now look ahead to week 6. Our overall record is 14-5 and we're looking to improve upon it. Let's start with our updated Power Rankings.
The BC Lions bumped themselves back up to #2 as they looked dominant against the Montreal Alouettes. More teams will be looking to raise their stock in our CFL Week 6 Predictions.
Hamilton Tiger-Cats at Edmonton Elks
The Tiger-Cats finally got their first win of the season last week, while the Elks lost in heart-wrenching fashion to continue their winless streak to 19 games. They return home to Edmonton looking for their first win of the season and their first home win since 2019! Is it a curse? Or is it just terrible football decisions?
Both teams operate a lifeless and anemic offence and are trotting out QBs who don't appear to be ready for Primetime. But if I had to choose, Taylor Cornelius might find enough stride to make things interesting in the air and on the ground. Both teams also have running backs (James Butler for the Cats and Kevin Brown for the Elks) who can make a difference, especially since both teams also possess two of the worst run defences in the league.
That said, Edmonton looked much better on the defensive side of the ball against the Riders last week. In what should be a close game, we're leaning toward Edmonton getting their first win.
Prediction: Edmonton Elks
Toronto Argos at Montreal Alouettes
This should be a doozy of the game and a rematch of last year's East Final. The Argos are #1 in our Power Rankings and have one of the best running games in the CFL, led by A.J. Ouellette. Toronto had a bye last week, so expect them to be prepared and well-rested.
If the Argos can run the ball, the Alouettes have shown they can stop it, Montreal sits second in the league, allowing 69 rushing attempts and two rushing touchdowns. They might not have the highlight-reel offensive attack led by Cody Farjado at QB, but they are a threat to score points on most drives, especially with a kicker in David Cote, who can hit from distance.
However, Montreal is not quite an elite team yet, and the way the Argos were able to punish the BC Lions two weeks ago sent a big message that the defending Grey Cup Champs are for real. We expect Argos QB Chad Kelly to find open receivers and put this game away.
Prediction: Toronto Argos
Winnipeg Blue Bombers at Ottawa Redblacks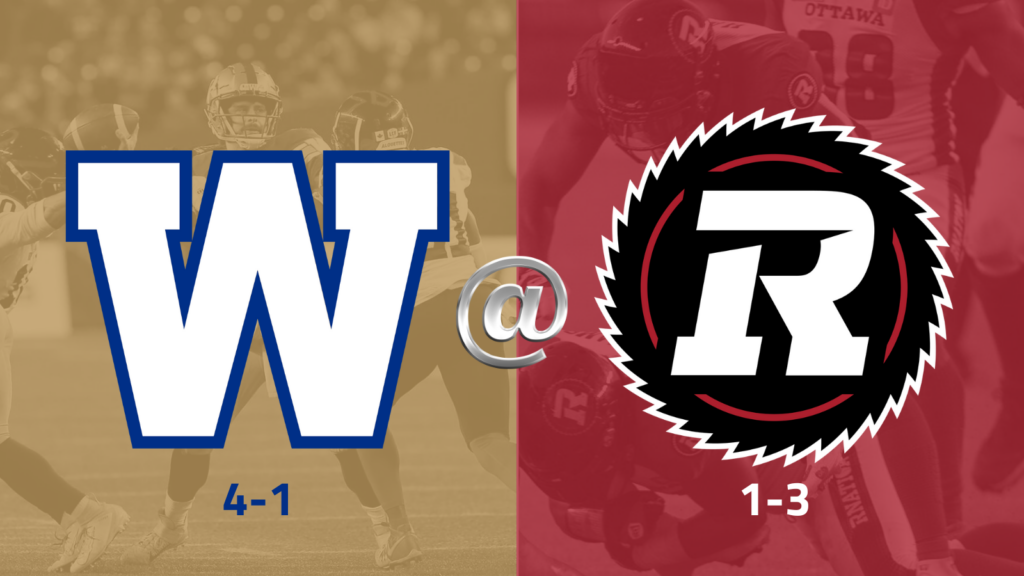 Poor Ottawa. They finally saw the return of their starting quarterback, Jeremiah Masoli, only to see him injured again and out for another season with a ruptured Achilles tendon. To make matters worse, they also don't have their backup QB in Tyrie Adams either, who tore his ACL. And if we really want to add to the horror, they face the uber-talented Winnipeg Blue Bombers this week. Ouch!
We'll spare you a long diatribe prediction here. Sure, anything can happen in the CFL, but this should be a one-sided win for the Bombers.
Prediction: Winnipeg Blue Bombers
Calgary Stampeders at Saskatchewan Roughriders
The Stamps are not as bad as their record indicates, and the Riders are not as good as their record indicates. They last faced each other in Week #3, where the Riders were able to squeak out an OT win. That seems to be the trend in Saskatchewan, barely squeaking out victories by 1, 3, or 4 points so far this season. And let's be honest; they probably didn't deserve the win last week against the worst team in the league, the Edmonton Elks.
The key will come from the quarterback position. If Jake Maier can get protection and have time to move the ball around, he should be able to execute against a Riders' defence that gives up around 23 PPG and 355 yards per game. But it's not like Calgary's defence is much better, and the Riders can move the ball down the field behind QB Trevor Harris. The issue is that Saskatchewan can't get the ball in the endzone (21.2 PPG).
In what will probably be another close game, I see the Stamps getting revenge.
Prediction: Calgary Stampeders