The Bombers look for revenge against the Roughriders
Can Edmonton beat Calgary in their Labour Day rematch?
The Redblacks need a win. Will they get it against Hamilton?
Labour Day was not good for us last week; we went 2-2 with our picks (36-15 overall). Saskatchewan upset the Bombers, while the Elks narrowly lost to the Stampeders. We'd make those picks again, and looks like we get that chance as rematches are on the menu in our CFL Week 14 predictions.
A couple of changes in our CFL Power Rankings. The Riders have moved up to fourth after two big upset wins, while Calgary moves back up to sixth after their impressive come-from-behind win over the Elks. Bring on the chaos that should be an entertaining week 14. Here's who we got.
CFL Week 14 Predictions
Hamilton Tiger-Cats at Ottawa Redblacks
The Hamilton Tiger-Cats are set to play against the struggling Ottawa Redblacks team three days after losing 41-28 to the Argos on Labour Day. It's a strange CFL scheduling snafu as Ottawa comes into this game well-rested after a bye week.
Hamilton has already beaten Ottawa twice this season, but we don't give much importance to their previous matchups for this pick. This game is a coinflip, but a well-rested Ottawa team, motivated to end their 5-game losing streak, has had enough time to prepare. It's important to note that CFL teams with fewer than five days of rest are 2-9 straight up.
The quarterback position is crucial in this game. Taylor Powell, the Ticats signal-caller, isn't mobile enough and can't stretch defences with a strong arm. These skills are essential in the CFL, and he lacks them. On the other hand, Ottawa QB Dustin Crum hasn't been outstanding lately, but he possesses these essential skills and has shown flashes of brilliance. We believe the game will close, but we're going with the well-rested Redblacks team.
Prediction: Ottawa Redblacks
Montreal Alouettes at Toronto Argos
The Toronto Argos might face fatigue as they enter their next match against Montreal. Like the Ticats, they've had fewer than five days of rest after Labour Day and are up against a tough Montreal squad that has scored over 25 points in six of their last seven games. This is worth mentioning because, although Toronto has had a great season so far, their defence has shown some vulnerabilities lately. However, Toronto's offense has been strong enough to compensate for their defensive errors.
In their previous encounter in week 6, these two teams put on a great match, with Toronto pulling away in the final minutes. Although Montreal is a good team, they're not among the elite teams yet. They can defeat the teams they're expected to, but they seem to have trouble with teams like Toronto, Winnipeg, and BC. This game could be close, and Montreal might even win by a narrow margin. Nonetheless, for now, we'll stick with the Toronto Argos.
Prediction: Toronto Argos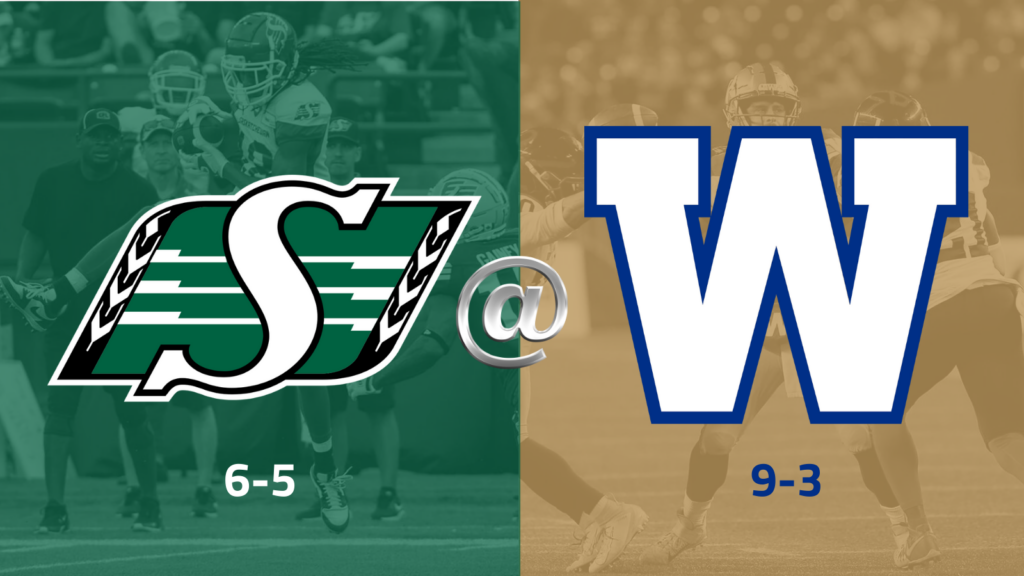 Saskatchewan Roughriders at Winnipeg Blue Bombers
Last week, the Riders pulled off a stunning upset against the Blue Bombers and are now looking to prove that it wasn't just a fluke. It's impressive to see what Jake Dolegala, Saskatchewan's third-string QB, has done in leading the team to two consecutive upset victories. After throwing for 239 yards and three touchdowns against BC in Week 11, he passed for 326 yards in the game against Winnipeg. That's quite an achievement for someone written off earlier in the season.
On the other hand, the Bombers are determined to get their revenge. They are an incredibly well-balanced team, especially on their home turf, and losing to the Riders two weeks in a row is not an option. It's not a knock against the green and white, who have been playing with a lot of heart, but the fact is that their offensive line is one of the weakest in the CFL, and their receiving core is average at best. They've been overperforming, and while they deserve credit for that, facing a motivated Bombers team at home is daunting.
Prediction: Winnipeg Blue Bombers
Calgary Stampeders at Edmonton Elks
Last week's Battle of Alberta was certainly a thrilling matchup. The Calgary Stampeders secured a 35-31 victory with a touchdown in the final 20 seconds. Both teams, however, struggled on the defensive end, which could indicate that we might be in for another high-scoring game. Calgary's QB Jake Maier was very effective during the game, especially in the run game.
On the other hand, the Edmonton Elks had a strong running game, accumulating 239 yards on the ground. Kevin Brown had a solid performance with 89 yards on 12 carries, and quarterback Tre Ford was impressive, rushing for 135 yards on 11 carries. For Edmonton to win this game, they need to bring a more balanced attack, with Ford looking to connect with his receivers, such as Geno Lewis. Predicting a winner for this game is not easy, but we believe the home advantage might play a vital role in Edmonton's favour.
Prediction: Edmonton Elks